Mr. Hashemi, Azintaneh's Chairman of the Board, was elected as a member of the board of directors of Auto Parts Manufacturers Association
On September 5th 2016, the election of Automotive Parts Manufacturers Association's board was held with attendance of more than 402 active members. This election was a comprehensive participation, also a strong determination of all part manufacturers for unity, progress, avoidance of conflict and promotion of this industry in the country. The purpose of this election was eliminating the problems of auto parts manufacturers, persistent presence in Automotive Policy Council meetings and declaring the needs of the member of this association. During the meeting Mr. Hashemi, Azin taneh's Chairman of the Board, was elected as a member of the board of directors of Auto Parts Manufacturers Association.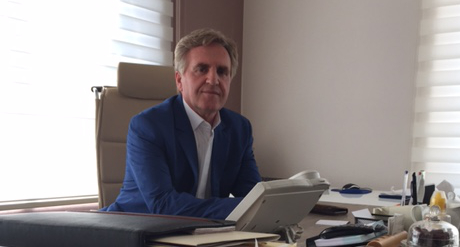 It is worth noted that Mr. Hashemi's votes demonstrate his experience, expertise and empowerment in this industry which it is hoped to lead in synergies for improving the existing situation.
It should be noted that the auto makers aim to determining a strong board to pursue their demands by this election. Because they believe that any efficient action has not done by association until now. Today auto parts industry has several problems, including taxes, payments of automotive companies and cash shortage which is resulted in lack of growth and development of products. Despite the whole payment should be paid within 45 days, today this amount rises up to 3.5 to 4 trillion and it seems hard to clear such debt.
For gaining familiarity with the history of Mr. Hashemi, a summary of his activities will be presented as follows:
Mr. Hashemi who can be introduced as one of the country's entrepreneurs, started his carrier in mold making and machining industries from his beginning 13's. Despite his successes, due to the inherent interest in automotive industry, he entered in commercial vehicles brake industry and start repairing heavy trucks pneumatic valves. In early of 1968, he also began to produce brake systems for commercial vehicles.
After the revolution in Iran He founded Iran booster Company with his partners. This company with passing Bendix technical interview, was one of the first companies which could produce under the license of an international company. Due to the war, and refusing foreign part manufacturers to supply, localization of Trailer coupling, Quick release valve and Spring break actuator were started and after that the other parts of the braking system was produced locally. As a result, Iran became independent of importing car's brake systems.
It should be mentioned, it was the first time that parts of vehicles safety systems were produced completely local and were made without any support from external suppliers.
In 1993, Hashemi and his partners, in order to develop their activities, founded a new company named Azin Taneh. From that time, much more brake system parts for passenger cars and commercial vehicls have been produced by Azin Taneh company.
Production of brake systems for passenger cars commenced with the support of automotive manufactures top managers. The initial outcome of this cooperation lead to production of Paykan boosters and not long after, production of other parts followed through. Because of the managers' experties and quality of AzinTaneh products, Hashemi and his partners were presented to BOSCH Co, by managers of the PSA (Peugeot) & IKCO (Iran Khodro). So Azintaneh's production was continued under the license of Bosch Co.Because of Azin taneh's history and its Directors background, Azin can be recognized as one of the most experienced manufacturers of brake system in Iran.  Among the major achievements of Hashemi, localization of many other parts can be pointed. Despite oppositions and threats that were done from importers, his enthusiasm and perseverance lead him to succeed in his works.Mr. Hashemi was a member of the mechanics associations of Tehran for many years. among his experiences, avoiding overturn of trucks by adding some sensors to their brake system can be mentioned as one of the most important actions of him. He believes diligence is the main effective factor that made him progress and diligence means working 17 hours per day, uninterrupted.  Hashemi as an artisan and producer, has participated in board of Parts manufacturer in Iran. He believes that with Cooperation of professional and nationalist specialist, it is possible to release Iran's automotive industry from current problems. His key points to approach from current position are mentioned as below: 1-      Cooperation and take parts with highly specialized and experienced Iranian auto parts manufacturer in negotiations with automotive companies & international car factories.2-      Efficient and close relation between research centers and manufacturers as well as using their opinions.3-      create conditions for internal producers to able them contact with international part producer and use their experience and also make them can produce parts under international company license. facilitate the export conditions for high quality Iranian producers.